Client configuration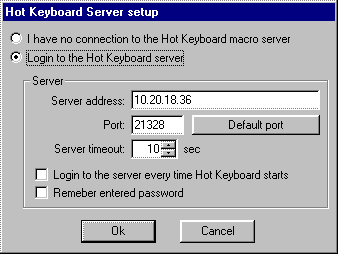 This dialog is designed to configure network settings to connect to the Hot Keyboard server.
With this dialog you can set the server IP address, port, server timeout and other options.
Server address
- The Hot Keyboard server IP address. It is possible to use numeric or mnemonic addresses, such as
mars.company.net
or
192.168.0.10
, whichever you (or your system administrator) prefer.
Port
- Server port. Leave this setting default unless the system administrator changes it. It must be the same as that of the server.
Server timeout
- time in seconds to wait until the connection is restored. Increase it if your network is slower.
Login to the server every time Hot Keyboard starts
- check this option if you have a permanent server and you want to automatically log in.
Remember entered password
- check this option to skip password prompt while logging on to the server
See also:
Network commands